Humanities and Social Sciences
The Department of Humanities and Social Sciences has its humble beginning since inception of the erstwhile Nagarjunasagar Engineering College in the year 1965. Hitherto it was associated with the Department of Mathematics till 1978. Subsequently, it acquired independent status as the Departmentof Humanities and Social Sciences in the year 1979 and emerged as a full-fledged department.
Jawaharlal Nehru Technological University, Hyderabad (JNTUH) has been striving with the determined and unwavering commitment to provide for the advancement of learning and knowledge in Engineering and Technology, which allows students to spend hours of intramural work so that upon graduation, they do possess not only a range of academic learning, but also the relevance of that learning for the development of the State in particular, and the Nation at large. It is with this valued aspiration, the university has been fine-tuning and improving all the academic programmes with the objective to make them applicable to the existing requirements of the society. The vision and the initiative taken by the University administration in incorporating the 'English Language Communication Skills Lab' at first year level and 'Advanced Communication Skills Lab' at third year level of B.Tech Course Curriculum of JNT University is not only appreciated and welcomed in Andhra Pradesh but even emulated and followed in almost all the states in Southern India. The University under the stewardship of the honorable Vice – Chancellor, Prof. Katta Narasimha Reddy continues to promote healthy academic standards in tune with the growing needs of the society.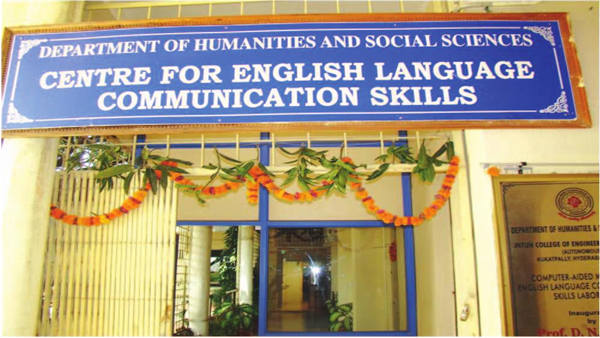 Department of Humanities and Social Sciences, JNTUH CEH